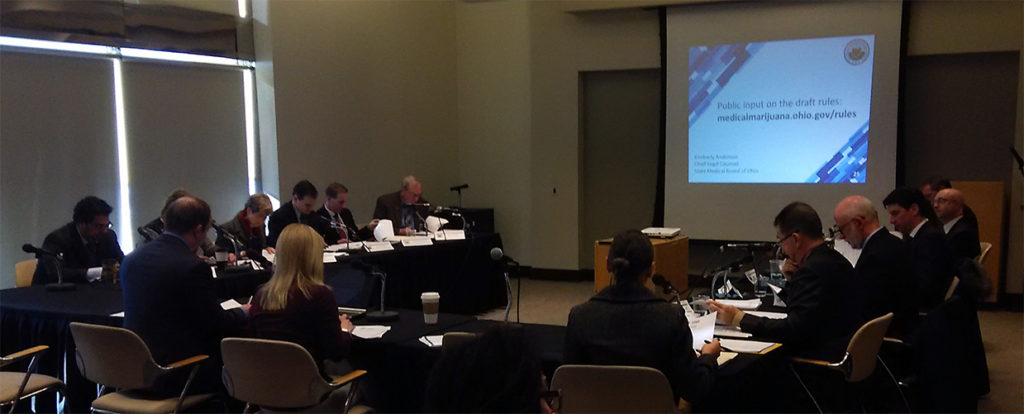 The Ohio Medical Marijuana Advisory Committee has released updated draft rules for cultivators, dispensaries and physicians. We are working to make sure our member's voices are heard.  Working together we can ensure Ohio's new medical marijuana industry adequately meets the needs of all patients — while building safe, thriving industry that benefits all Ohioans.
Please review the documents below and let us know what changes you would like to see made.  Public comments are being accepted now through Friday, January 13, 2017, but please get yours in as soon as possible.
Not a member? Have your voice heard and Join Today!
Draft Rules
Cultivators
Dispensaries
Physicians
Supporting Documents
Cultivator Rules Presentation
Summary of 1st Round of Public Comments
Dispensary Rules Fact Sheet
Dispensary Rules Presentation
Physician Rules Fact Sheet
Physician Rules Presentation
Physician Survey
After you share your thoughts with us, you can also submit them by directly by email to: medicalmarijuana@med.ohio.gov
Your comments must be submitted to them without attachments by 5pm on Friday, January 13th in order to be accepted.  They request that when preparing your comments, you be sure to:
Explain your views as clearly as possible.
Describe any assumptions.
Provide any technical information and/or data used to support your views.
Explain how you arrived at your estimate for potential burdens, benefits or costs.
Provide specific examples to illustrate your views.
Offer alternatives.